A1
PV1
WG
IN2
IN2
2
2
OD1
A1
100
1
A1
100
2
0
1
0
0
0
0
0
1
1
0
0
0
Y-Axis
30
EQ
AND
TRUE
0
ADD
1
1
ROOT
9
SIN
45
PI
EVEN
0
ROUND
3.1
SUM
64
10
50
1
100
1
100
item
abc
TEXT
abc
FROM_START
FROM_START
text
BOTH
abc
1
10
WHILE
i
1
10
1
j
BREAK
GET
FROM_START
list
SET
FROM_START
list
SPLIT
,
NUMERIC
1
Use the Sine/Square wave generators
to create music and more
List Home
---
Music player with a piezo buzzer
Introduction to Functions
The first section of this program is a function we have called play note . This function accepts one input which is set as the frequency for the sine wave generator WG. It then waits for 0.1 Seconds.
Musical notes
In the subsequent sections, we have prepared a list of frequencies corresponding to the notes for a song. A frequency of 0 turns off the since wave, and indicates a pause. If a frequency is repeated twice, it means it will play for 0.2 seconds before the next frequency gets set.
---
---
More Examples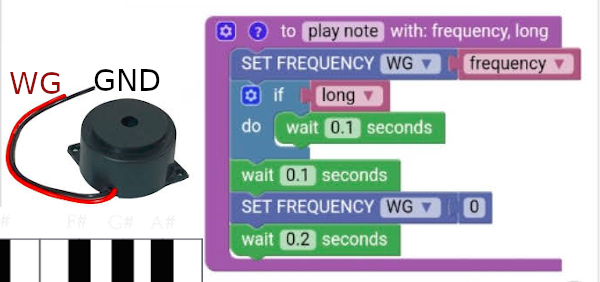 Functions - Happy Birthday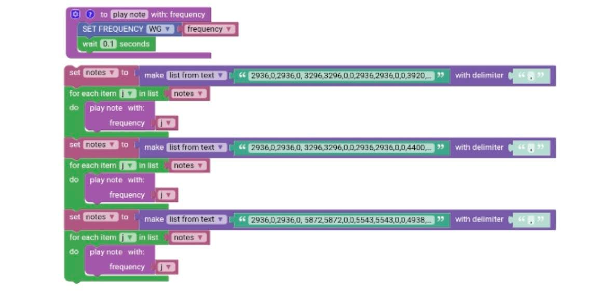 Functions and Lists - Happy Birthday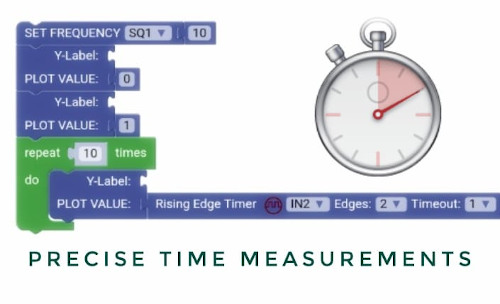 Time Rising Edges