Summary
A tool for learning science by exploring and experimenting.
Over 50 documented experiments and easy to add more.
Wide range: High school and above.
4 channel Oscilloscope, 1Msps, +/-16V input range
Sine/Triangular Wave Generator, 5Hz to 5kHz
Programmable voltage sources, +/5V and +/-3.3V
Frequency Counter and time measurements.
Supports I2C standard sensors
12 – bit analog resolution.
Open Hardware and Free Software.
Software in Python programming language.
Requires a USB port and Python interpreter
ExpEYES is an initiative by the PHOENIX project of Inter-University Accelerator Centre,New Delhi.
It is a hardware & software framework for developing science experiments, demonstrations and projects without getting in to the details of electronics or computer programming. It converts your PC into a data acquisition and control hub for a science laboratory.
The PHOENIX (Physics with Home-made Equipment and Innovative Experiments) project was started, in 2005 as a part of IUAC's outreach program, with the objective of developing affordable laboratory equipment and training teachers. The design of ExpEYES combines the real-time measurement capability of micro-controllers with the ease and flexibility of the Python programming language for data analysis and visualisation. It also functions as a test equipment for electronics hobbyists and engineering students. Software for all products from PHOENIX are distributed under GNU General Public License and the hardware designs are under CERN OHL.
Join the Phoenix Mailing List to be informed about the Training Programs and new developments.
Experiments
Downloads
ExpEYES software is written in Python and it should run on any computer having Python interpreter (version > 2.7) and Python Serial library. It is included in the Debian and Ubuntu (version > 13.04) GNU/Linux distributions.
The fastest way to get expEYES running on your PC is to boot your computer from a DVD or USB pendrive, prepared using the ISO image. The procedure to to this on MSWindows is explained here. Once you boot from the pen-drive, the Lubuntu desktop will appear. Start the expEYES program from the Applications->Science menu. Download the ISO images of the Live DVD. This ISO image is prepared from Lubuntu 14.04 and contains other educational resources also.
Design
A simplified block diagram of ExpEYES Junior is shown in the figure. The sensor/control elements are connected to the micro-controller. The user programs uses the Python Library to communicate to the micro-controller, running a program, written in C and Assembler. The micro-controller performs the control/measurement operations and sends the result back to the PC. The job is divided according to the capabilities and strong points of each device. The micro-controller does all the real time measurements and pass on the results to the PC where Python code is used for processing and displaying the data.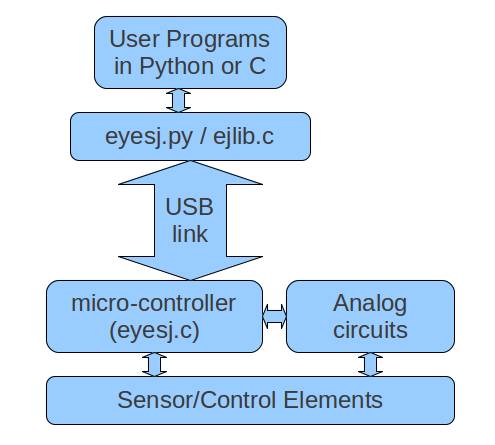 Circuit Schematic & Layout PDF schematic1 schematic2 layout
Image Gallery
Warning: The stylesheets were not loaded!
You will need to change the Load stylesheets setting from Automatically to On homepage or On all pages.
You can set that here.